Do you have sheet metal requirements? Get a FREE quote now!
TSM were the first manufacturing company in the UK to have the FOL-AJ series fibre laser fully automated with the ASLUL tower.
This increased our capabilities to offer a bigger cutting range, faster processing of material and low running costs to improve productivity and reduce lead times.
The investment into this product and its success has helped to create new job opportunities and training.
As a rapidly growing precision sheet metal and powder coating company, Taylor Shaw Manufacturing Ltd (TSM) provide a complete service from developing the product to delivering it.
3 Axis All Linear Drive
Twin adaptive optics eliminates lens change
Use one lens to cut 1mm to 20mm
3m x 1.5m bed size
Full access cabin and flexible machine layout
Automatic nozzle changer
Exclusive Amada tuned oscillator
In-process cut monitoring
AMNC control
Based in Lancashire with site spanning over 40,000 square feet, TSM offer many forms of light sheet metal fabrication in a variety of materials, including stainless steel, zintec, mild steel and aluminium among others.
Providing services for a range of sectors including security, leisure and furniture, we also specialise in the point of sale industry.
TSM's capabilities
The Amada F1 Linear drive laser cutter is at the very forefront of technological advancement, and here at TSM, we use it to offer laser cutting services.
A laser cutting business with years of experience in the industry, we have a keen eye for accuracy, using the precision abilities of laser cutting to get every cut millimetre-perfect.
Our team are able to adapt our skills to the most complex shapes, including intricate patterns, minute holes and metallic structures with detailed designs.
And finally, our in-depth knowledge of the technology we're using means we are able to carry out each job with high standards of health and safety in mind. We understand the risks involved, and we take all measures necessary to mitigate them as much as possible.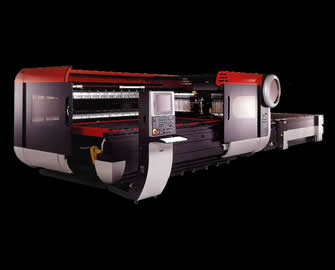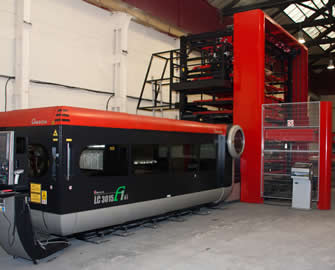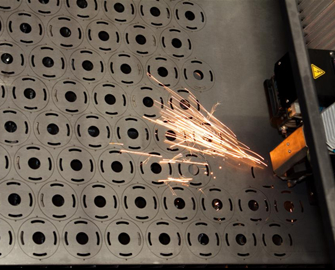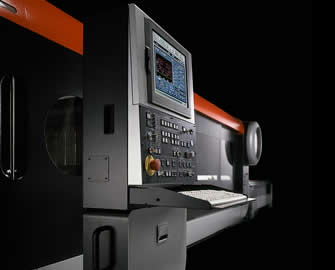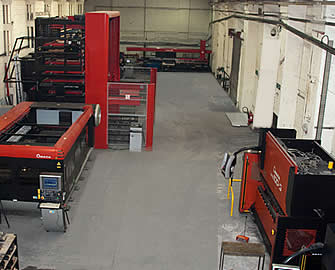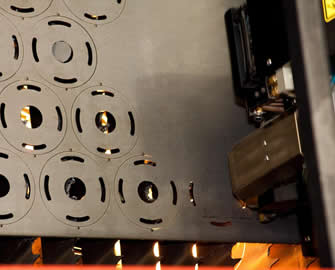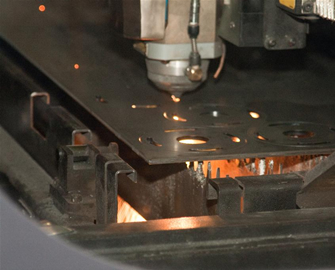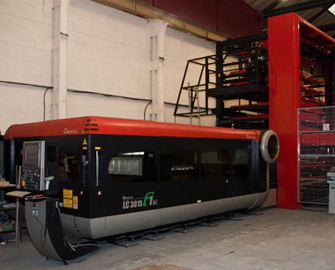 Capacity:
Fully automated 6 shelf storage tower
Automatic nozzle changer
Max sheet size – 3000mm x 1500mm
Materials:
Mild steel up to 20mm
Stainless steel up to 12mm
Aluminium up to 6mm
We use the latest laser cutting technology
The latest in laser-breakthrough technology, the Amada F1 Linear drive laser cutter comes with increased cutting speed, the ability to cut through up to 20 mm of material and an enhanced cutting quality.
Made by the world's largest machine tool manufacturer, this incredible tool – with its fully automated tower sheet loader and automatic nozzle changer – is capable of achieving the pinnacle of productivity. With the ability to cut at a rate of 170 m per minute, the laser also has acceleration rates of 1.5G in both its Y and X axes.
The laser can deal with a range of metallic materials, including aluminium up to 6 mm, stainless steel up to 12 mm and mild steel up to 20 mm.
Subcontract Laser Cutting Service – tsm provide a quality sub contract laser cutting service delivering on a daily basis to customers throughout the UK, Europe and Worldwide. State of the art facilities combined with the latest laser cutting technology and a determination to succeed enable tsm to give our clients a highly competitive advantage.
Contact TSM today
With our state-of-the-art facilities at the LC-F1NT CNC laser profiling centre – and an expert team behind the controls – we can guarantee that every job will be completed to the standard you expect.
Find out what we can do for you today by contacting us at 01254 235779.
If you have a question or would like a free quote, please enter your details below.