Do you have sheet metal requirements? Get a FREE quote now!
TSM offer a high standard powder coating service with our fully automated online pre-treatment plant and sample booth.
Fully automated with iron phosphate pre-treatment
Unlimited choice of colour and textures
Subcontract powder coating services
Fast turnaround
Size capability – we have the facility to pre-treat and powder coat materials up to 3m x 1.8m x 0.8m wide.
Off line sample booth – enabling us to offer a quick turnaround for prototypes without disruption to main production.
Iron phosphate clean-rinse pre-treatment – essential for quality and lifespan of a product by improving the surface for the powder to adhere to and helping to protect the material.
Robotic and manual spray guns manned by fully trained paint sprayers.
We have an unlimited choice of colour and textures in epoxy and polyester powders including leatherette/texture/hammer and aluminium sparkle, dependant on time and budget. tsm also stock a wide choice of standard ral/bs colours from high gloss to matt for quick turnaround.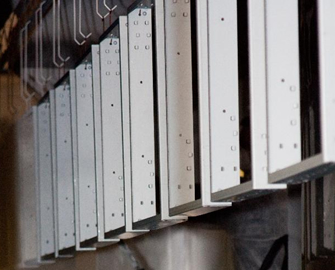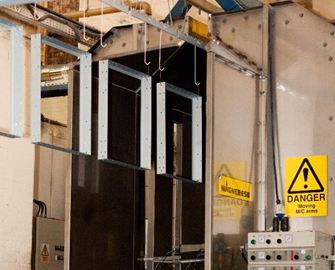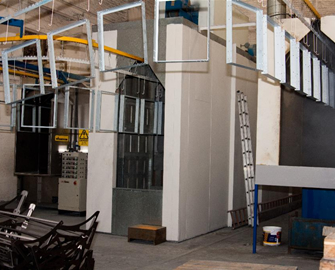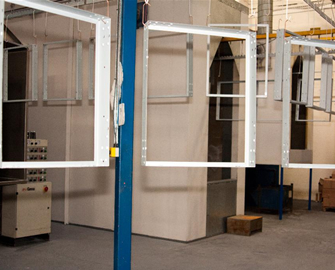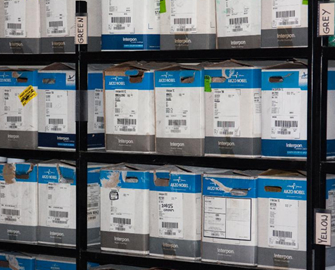 Why powder coat?
Advertising powder coated goods instantly gives a positive statement because of the quality image and flexibility it projects to your customers.
The powder coating finishes are durable and highly resistant to peeling, chipping or fading, while the process is quick, efficient and environmentally friendly producing little or no pollution or dangerous waste (powder over spray is recycled to significantly reduce waste).
Plus, there is no timely process of waiting for paint to dry! As soon as the product leaves the oven and is cool to the touch, the product is dry and ready to be packed.
Subcontract powder coating service – our powder coating services are amongst the best in the country. We offer a quality sub contract powder coating service to customers throughout the UK, Europe and Worldwide. A combination of state of the art facilities, the latest technology and a determination to succeed enable tsm to give our clients a highly competitive advantage.
Contact TSM today
Find out what we can do for you today by contacting us at 01254 235779.
If you have a question or would like a free quote, please enter your details below.